Welcome...
Thank you so much for visiting me on the web! I hope to provide you with information and opinions on the hottest restaurants, attractions and events in and around Baltimore. In addition, I will offer ideas for daytrips and fun getaways.

Please add my site to your favorites and come back to visit regularly as I will continue to add new updates!
Sign up for Downtown Diane's Newsletter!
Sign Up for Downtown Diane's official E-mail newsletter. You will have the chance to win exciting prizes, learn the latest scoop on restaurants, openings, events, charitable causes and hot happenings all around Baltimore & surrounding areas.

Listen to Diane every Friday on The Ed Norris Show 105.7 The Fan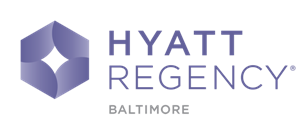 Check Out Bistro 300 in the Hyatt Regency Baltimore..
Brunch, Lunch, & Dinner + Daily Specials
For details see Hyatt Regency Baltimore



Le Grand Courtâge
Our motto is 'Embrace Life. Dream Big. Accept all Invitations.' and to that end our goal is to provide an affordable luxury that is perfect for "courting life" and celebrating its special occasions, as well as all of the simple every day moments in between.

Le Grand Courtâge meaning " the great courtship" ...
this sparkling wine is a courtship of life and love. A dry, crisp, yet fruit forward sparkling with very balanced flavors..perfect for every occasion.

Call 877.890.9020 to discover where to purchase this delicate French sparkling wine in the area.
Celebrity Photos
Diane has met and interviewed many celebrities through her Entertainment Reporting in and around Baltimore.

Click here for pictures of Diane and her favorite celebrities!
**********************************************************************************************
CBS Baltimore..Half-Price Deals!

Sign-Up BALTIMORE to receive FAB half-price or more deals..including restaurants, spas+..NEW offers everyday!
Click Here for Half-Price or More Baltimore Deals
**********************************************************************************************
Chef's Expressions Wine Dinners

Gramercy Mansion

Enjoy a fabulous, elegant dinner paired with amazing wines. Great for a special date night...Treat someone you love to a memorable evening.


Visit www.ChefsExpressions.com for full schedule of wine dinners and complete menus

Mason Dixon Chef Tournament
Begins June 15! Inn at the Colonnade

This multi-week event is a single-elimination tournament designed to showcase some of the area's finest executive chefs and restaurants. Guests attending this exciting event will be more than just spectators, as they enjoy the unique experience of witnessing two spectacular area chef teams battle it out in the prep kitchen right on the main floor. More info and tickets -
Fort McHenry Crab Feast

Saturday, August 1

Enjoy summer BBQ fare hamburgers, hot dogs, wings, sweet corn on the cob, side salads & sweets to go along with MARYLAND CRABS! Slurp Avery Pearls from Ryleigh's Oyster and sip libations from Heavy Seas Brewery. Jam to the tunes of the Eastport Oyster Boys.
Horseshoe Casino

Saturday, August 15

Jam out to 12 DJ's at the DMV DJ Mixathon by HeidnSeek Entertainment while you eat, drink, & shop at the Boulevard of Chic Truck Rally by Media Star promotions.
Dining Out For Life

Thursday, September 17

Dine at a partnering restaurant and help Moveable Feast fulfill it's mission; providing nutritious foods and other services in order to preserve quality of life for people with HIV/AIDS and other life-threatening conditions. Participating Restaurants in Baltimore:

www.diningoutforlife.com/baltimore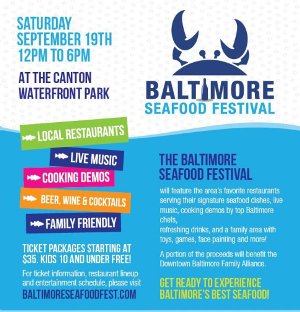 Sunday, September 20

Mt. Washington ...Also a 1 Mile Family Fun Walk.

Benefits Herman & Walter Samuelson Children's Hospital at Sinai.


Woodholme Country Club
Monday, September 21
..Benefits Leukemia & Lymphoma Society
New Partnership This Year w/ "There Goes My Hero"
Providing Hope & Nourishment to Leukemia Patients & Families.
For Full Details: www.ruthschrissizzlinggolfclassic.com
Saturday September 26 10A-4P

Baltimore Humane Society - Paws on Parade Walk & Fest

Bring Your Pets and Enjoy a Day Filled with Fun Activities! Full Details & Schedule of Events
Monday, October 5 6:30-9:30P

B & O Railroad Museum

Local Farmers & Chefs are paired together to create a unique dish. Guests will enjoy sampling the amazing delectables while raising money for Days of Taste.

Full details:

www.farmtochefmd.com
Das Best Oktoberfest

Baltimore Inner Harbor-Rash Field

October 10

ALL YOU CARE TO TASTE OVER 150 INTERNATIONAL, DOMESTIC AND LOCAL MARYLAND BEERS, DOMESTIC WINES and SCHNAPPS in Souvenir Glass,

Live Music, Contests, Vendors & So Much More.

Full Details & Tickets:

Oktoberfest


BreastFest
Power Plant Live!
Saturday, October 17 2-8P
Tyanna Foundation's signature event.. Tickets include food, drinks, games, raffles,
an amazing silent auction, energetic live bands and more..
Full Details: tyanna.org/baltimore/events/breastfest-baltimore
6th Annual KidsPeace Trick-or-Trot 5K/1-Mile Walk held in partnership with the Baltimore Orioles


Saturday, October 31, 2015 | 8 AM
Oriole Park at Camden Yards

Angela and Buck Showalter invite you to run or walk for kids in foster care.

For full details and to register visit

Trick-or-trot-5krun


RESERVE YOUR TABLE FOR THE 10th ANNUAL "AN EVENING RINGSIDE"
November12, 2015
Martins Valley Mansion
TO PURCHASE TICKETS CLICK HERE
or Contact Wendy 410 336-8889 WendyHerr1@gmail.com
Maryland Balloon Flights
Want a different idea for a date? A romantic Anniversary or Birthday
surprise? Pilot Matt Lidinsky, who lives in Baldwin, MD. runs a successful Hot Air Balloon Ride Business. You can visit his web site
http://www.marylandballoonflights.com to find out how to book a flight during this beautiful time of the year.