Welcome...
Thank you so much for visiting me on the web! I hope to provide you with information and opinions on the hottest restaurants, attractions and events in and around Baltimore. In addition, I will offer ideas for daytrips and fun getaways.

Please add my site to your favorites and come back to visit regularly as I will continue to add new updates!
Sign up for Downtown Diane's Newsletter!
Sign Up for Downtown Diane's official E-mail newsletter. You will have the chance to win exciting prizes, learn the latest scoop on restaurants, openings, events, charitable causes and hot happenings all around Baltimore & surrounding areas.

NEW Aromaland Essential Oil Blends
About Faces Day Spa
Now available at About Faces Day Spa ..reserve a 60 minute Aromatherapy Massage that utilizes these amazing oil blends.

Prana is like the "breath of life," full of fresh energy and mental clarity combining eucalyptus globulusm cajeout, peppermint and menthol.

Tranquillite nurtures, calms and relaxes with a lavendar, orange and cederwood blend and Love combines rosewood, patchouli, ylang ylang among others scents creating pure bliss.

Reserve your massage or purchase these essential oils at all area About Faces Day Spas. www.aboutfacesdayspa.com
Celebrity Photos
Diane has met and interviewed many celebrities through her Entertainment Reporting in and around Baltimore.

Click here for pictures of Diane and her favorite celebrities!
Chef's Expressions Wine Dinners

Gramercy Mansion

Enjoy a fabulous, elegant dinner paired with amazing wines. Great for a special date night...Treat someone you love to a memorable evening.


Visit www.ChefsExpressions.com for full schedule of wine dinners and complete menus

Sundaes in the Park
Northside Park...Ocean City 127th St & Bay
June 16-Sept 1 Sunday Eves 7-9pm
Enjoy live entertainment every Sunday and delicious ice cream sundaes!
Full schedule www.oceancitymd.gov/oc/departments/special-events/sundaes-in-the-park
View All Menus & Participating Restaurants...
https://www.baltimorecountyrestaurantweek.com

Baltimore City Restaurant Week
Menus and Participating Restaurants
http://baltimorerestaurantweek.com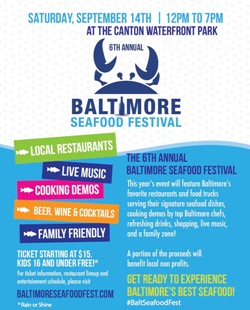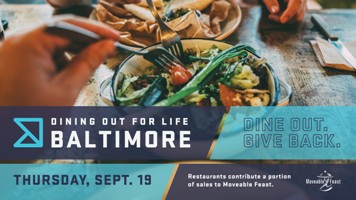 Click pic for participating area restaurants!
Friday, September 20
Four Seasons Harbor East
7-11pm
The Life and Breath Foundation annual event is always a fun time for a great cause! Raise awareness and fund research for Sarcoidosis and the people and families affected. More details www.lifeandbreath.org/eventsdonate/flip-flop-festivus